Why Choose SML College Sussex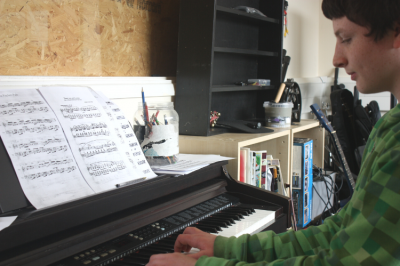 Our unique approach to education
SML College is a unique learning community where young people, aged 9-17, decide for themselves what, how, when and where they learn. There's no imposed curriculum, no imposed timetable, no lessons. We provide a welcoming and caring environment for all children without judgement. It is a lively and exciting place to learn in. We encourage curiosity and inquisitiveness to help students find out what they're passionate about. Since the College opened, every student who has left at age 16 has gone into Further Eduction, or a career.
Evidence-Based Approach
Self Managed Learning (SML) is a research-based approach developed in the late-1970's. Since 1980 we have applied and rigorously evaluated the method in a wide variety of contexts. We have run SML programmes with many organisations – the Bank of England, the BBC, Sainsbury's, British Airways and the NHS, to name a few.
Learning Your Way
Schools assume that students will learn the same things, in the same way, at the same time. Our environment caters to students as individuals and we encourage exploration of different interests and ways of learning. Taking responsibility for one's own learning, and learning to learn, are vital skills in a fast-changing world. We have a low student - tutor ratio so teaching is tailored more to the individual.
Supportive, Small-Scale Environment
Student wellbeing is an important aspect of SML College. Our students are happy, motivated and able to learn in a way that inspires and energises them. We offer a welcoming, safe environment for children from all backgrounds. Evidence shows that small schools mean less bullying, better relationships between adults and students and better outcomes for the students.
Our Message to Parents
With over 40 years of research, we know Self Managed Learning works. Not only for young people but also with adults, and have been helping schools, universities and companies around the UK with our educational programmes. However, it is so much more than that.
Our students are happy, motivated and able to learn in a way that inspires and energises them. They explore many subjects and delve much deeper into the areas that they are interested in.
The world is changing so fast that it is important for young people to be able to look at new problems, things they have never come across before, and find solutions. Our students are curious, committed and looking for new ways of working.
Our students come from all walks of life. Some have come from families who have always wanted to educate their children in a different way. Some students have struggled with mainstream schooling and yet thrived when they have arrived with us. Some parents don't want to put their children through the endless tests and mocks so that a school can get a tick in the box. Some of these parents have previously home educated. Wherever your child has come from, there is a welcoming place for them here. A safe place for them to learn and discover.
"As someone who didn't finish school, I think it's so important to become a lifelong learner and embrace an endless curiosity about the world." Sir Richard Branson.
Our Message to Students
What do you love? What are you interested in? How do you learn? Do you find it difficult to memorise from a textbook? Do you learn better when you hear information or from drawings? Everyone learns in different ways, which is why mainstream school is not for everyone. At SML College we have a place for you, so that you can concentrate on the topics you love – this may be music, technology, programming, writing, drawing, biology, animals, renewable energy, and ways to help the planet. Whatever you are interested in, whatever you love, we can help you to grow and thrive through learning.
We have had successful writers, programmers and musicians who have left SML College and are now doing jobs that they love.
It is like the saying- "The only way to do great work is to love what you do. If you haven't found it yet, keep looking. Don't settle." Steve Jobs founder of Apple. The same goes with education. Explore all different areas of education until you find the area that you love to do.
Invitation to Visit Us
We'd love you to visit the college and meet current students and tutors. Please call or email us and we will be happy to show you around to find out what students are doing and why they decided to come to SML College.